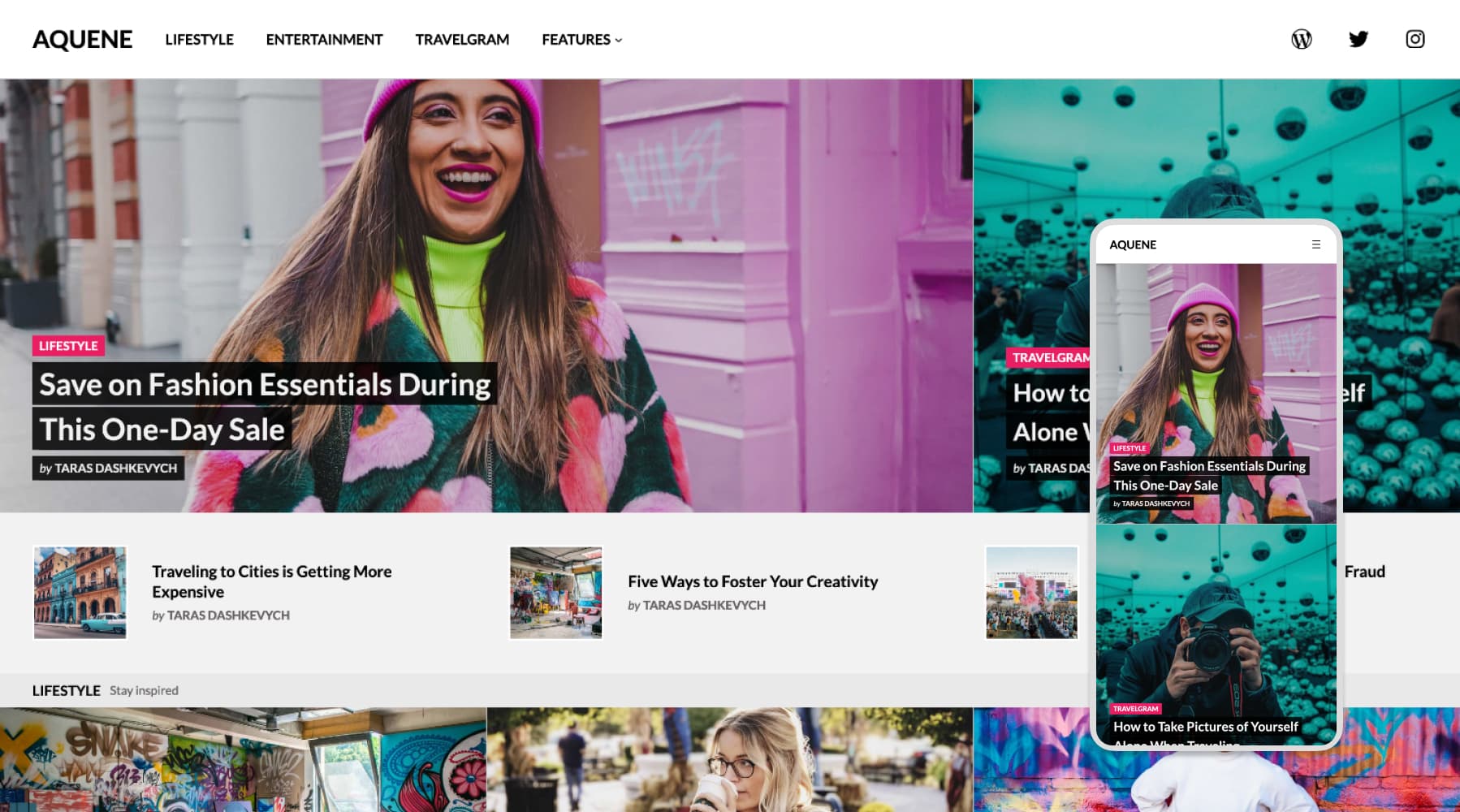 Under active development and support
Aquene
Professional WordPress block theme
$125.00
1 theme included
12 months download access
1 year of priority support
12 months updates
30% discount on renewals
14 days money-back guarantee
The theme comes with the license key which provides 12 months of support and updates.
---
---
Built for design
Design is important. Thus, Aquene places a strong emphasis on design to prevent negative perceptions of your company's credibility due to the design of your website.
Responsive
Adaptable across all device types, including mobile, desktop, and tablets, to ensure a website looks perfect and professional on any device.
User friendly
Designed with simplicity in mind to offer a clutter-free experience that avoids overwhelm and confusion, and to put the focus back on what's important.
Beautiful
Filled with visually striking layouts to create a modern website that projects a positive image and provides an engaging experience for visitors.
"I have nothing but good things to say both about the theme and the customer service behind it. Whenever I have a question, they're extremely quick to respond, and I'm never left wanting. It's the perfect theme for my purposes, and that personal touch from the company can't be beat!"
Taryn Ziegler
Digital content strategist
---
Built for performance
Speed is important. Thus, Aquene is built for speed, ensuring best performance for a website, crucial for good user experience and search engine rankings.
No jQuery
Native JavaScript instead of jQuery, to boost performance optimization issues and be able to eliminate render-blocking resources on a website.
WordPress coding standards
Clean and valid code to meet WordPress quality and security guidelines, keeping things simple while still providing great flexibility for a website.
Fast loads
Fast loading times and complete control over website features, enabling to make optimal performance-related decisions and to build a professional website.
"Wanted to thank you for making this engagement a rewarding experience for us at Greyhound Knowledge Group. Your themes are cutting edge and highly oriented towards ensuring the visitors have a great reading/viewing experience – goes to show the research that you've put in to make your themes truly world class. To top it, your unwavering support on customizations and helping solve even the most trivial issues is comforting to me as a business owner. Keep up the brilliant effort. Look forward to working with you."
Sanchit Vir Gogia
Founder & CEO, Greyhound Knowledge Group
---
Built for You
Your time is important. Thus, Aquene is designed for quick and easy website building, with no coding knowledge required, and the ability to make it look exactly how you want.
Pre-built layouts
Use beautiful pre-made page layouts and sections, getting a head start in creating a website that exudes professionalism and gives visitors a great user experience.
Drag and Drop builder
Drag and drop elements and position them as required, without the need for additional Page Builder plugins, making the website design process more effortless and seamless.
"We have been really impressed by the friendly and helpful support offered by Themes harbor. Our theme has been easy to use and offered us lots of functionality. Where we have struggled to do something ourselves we've been clearly guided on how to come to a solution. Can't fault!"
Oliver Gummery
Product and brand designer
---
Frequently asked questions
Do I get free updates?
Yes, product updates are totally free! Each Themes Harbor purchase includes a full year of support and on-click automatic updates that can be done using a WordPress dashboard.
What is included in these updates?
Updates include general maintenance, security patches, performance and accessibility improvements, new features, bug fixes, and compatibility with new versions of WordPress and some third-party products.
What happens when my license expires?
Your theme will continue to work after your license expires. You are free to continue using the theme for as long as you like, but you will need to renew the license in order to receive support and updates.
Is license only valid for one site?
Yes, it is only valid for one domain and one WordPress site. You can install and use a theme on more than one site, but you won't be getting any update notifications, supports and theme updates on them.
Is my site secure with your theme?
At Themes Harbor we take security very seriously. While security of your website depends on various factors, we are completely committed to making and keeping our themes as secure as possible.
What will I need to use this theme?
Like any website, you'll need to have your own domain and have self-hosted WordPress installed on a web hosting of your choice. Also, we recommend Jetpack for additional features.
Will you customize theme for me?
Although we don't provide custom work services for any of our themes, we do have amazing partners who are ready to take your project and professionally customize it to fit your needs.
Can you help with minor CSS changes?
Of course! We are happy to provide basic CSS tweaks with regards to simple changes on your WordPress site. However, for more advanced queries, please see our Customization page.
What's your support policy?
Customer satisfaction is our top most priority. We take pride in providing our customers with professional and friendly support to ensure that our products suit their needs.
I still have questions. What to do?
"I just want to let you know that you do a really good job. I'm glad I decided to pick a theme made by Themes Harbor. It's really great to see how easy it is to manage a theme as we want and being able to adapt the theme to a different language is a real improvement compared to the others. Now, I just choose the page, make the change and click save. It's so simple. Thanks, Guys!"
Max Tobelem
Web developer
---
Professional WordPress theme
Through stable, secure code and world-class design, we craft professional WordPress themes to help stand out from competitors and thrive in your market.